Hey there, I'm excited to be a part of the EYMM* Daddy and Me Blog tour! Father's Day is only 2 days away. I know right? Don't worry, if you don't have anything for him yet keep reading, you've got plenty of time to make him this Parker's Vintage Fit T-Shirt (sale code below).


When I found out I was going to be on this tour I realized it was going to be a challenge to come up with a matching shirt theme for my girls and their dad. Like I mentioned when I made him these raglans, he's a simple guy. Graphics are not really his thing, and there is no way I would even think of getting him to wear pink.  I scored Pinterest for ideas and came across this shirt from Zulily. The vintage stripes on the sleeves would be the perfect tie together for all their shirts. Plus this is a vintage fit pattern so that seemed fitting. I chose a color scheme that worked together and was able to put graphics on the girls' t-shirts using my Silhouette Cameo which only brought everything together even more.


If you are interested in adding stripes it was really pretty simple. I cut strips of white knit the width of the open sleeve and 3/4″ long for the girls and 1″ for dad. I used a stay tape on the back of the strip and pressed the raw edges to the backside. Then I laid them out where I wanted them (keeping in mind the sleeve had yet to be hemmed), pinned and sewed with a stretch stick down each side. After trimming the excess off I continued with the normal construction of the garment.

These patterns come in unisex for sizes Newborn to 18 years and then men's sizes XXS-6XL with tall options as well. There are short, long and layered sleeves and both v-neck and crew neck options. For the girls I chose their appropriate size and then the next size up for length, like I always do. I like the fit of the neckline better on this than the other t-shirt pattern I have for them. The vintage fit seemed to hug my youngest daughter's baby belly a little too much, but other than that the fit is great!


Dad's shirt is the reason I was most motivated for this opportunity. I have been having trouble fitting him with a regular t-shirt. I tried taking the best features of several of his preferred shirts and I tried another pattern. Both attempts gave me a lot of pulling and gaping around the armscye, which is only remedied in ready to wear by him buying shirts that are too big for him. I knew the issue was with his broad and square shoulders, but the EYMM pattern made it stand out really clearly for me because there is a shoulder to shoulder width measurement in the size chart! Nobody does this! Everybody should do this! There is also center back to wrist. These are excellent measurements to include in the size chart because they can help you blend the right sizes from the beginning to get the perfect fit. So I learned his shoulders are 2 whole sizes larger than his chest measurement. I got some help from the group in choosing the best adjustments and using this PDF tutorial I widened the shoulder and raised the slope. A quick muslin made it clear we also needed to decrease the neck opening as well. I'm really happy with the fit now.


These are made with cotton lycra solid knits. I normally get them from Raspberry Creek Fabrics or Peek-a-Boo Pattern shop, depending on where I can get the colors I need. Cotton lycra is great to work with but has less drape than other lighter weight knits. I'm excited I can now use the Nike Dri-fit I've been hoarding, just waiting for the shirt pattern issues to resolve.

Big sister was excited to match her daddy. Both girls absolutely adore him, with good reason. He is such a great father to them, always teaching and encouraging them, and so gentle, loving and patient.


So if you haven't come up with something for Father's Day, maybe you should try the Parker's Vintage Fit t-shirt (check the code at the bottom for a discount). Especially if you haven't tried sewing something for him yet. With the sizing help available this pattern will be a wonderful resource.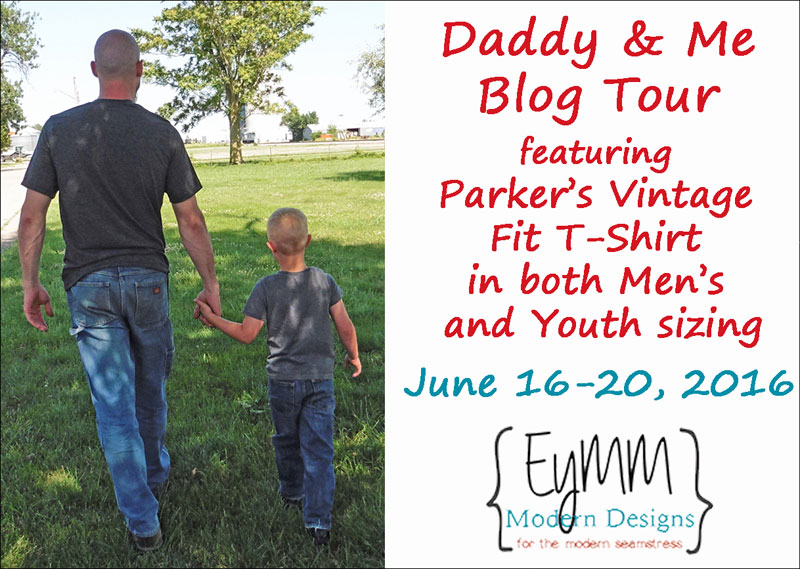 Make sure to check out all the stops on the EYMM Daddy†& Me Blog Tour! (Note: the direct links below won't work until their scheduled day, but feel free to click through and check out their blogs any time!)
June 16
House of Estrela &†The Wholesome Mama
June 17
June 18
HattieLu Handmade &†Blessed x Five
June 19
Pretty and Precious†&†Adventures With Bubba and Bug
During the tour, all Daddy†& Me patterns†are†on sale! †Use coupon code MINIME†on the EYMM site* to save 25% on the Parker's T-Shirt patterns (Boy's* or Men's* or the†Bundle*) or the†Hoodie patterns†(His & Hers Hoodie* or Zander's Hoodie* or the Bundle*)†until June 21†at 11:59pm PST.
I use affiliate links in my posts, meaning I get a small commission for any sales made through them. There is no additional cost to you, and as always all opinions are my own and I only rave about things I really like!